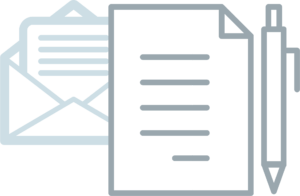 Print, Sign, and Mail
Thank you for creating a new account with The Ministry Fund!
Please complete the online form below.
Once you complete the form, select to submit it online.
The information you input will automatically fill in the new agreement form which will be emailed to you.
After you receive the email with the agreement form attached:

Print the new agreement form.
Sign the new agreement in all appropriate locations.
Mail the new agreement form to Ministry Trust at the address:
Ministry Trust, LLC
3237 Satellite Blvd., BLDG 300, Suite 150A
Duluth, GA 30096

As soon as we receive the signed new agreement form, we will email you a welcome packet. The emailed welcome packet will provide instructions detailing the necessary steps for making deposits to your account.
Contact Us
If you have any questions feel free to contact us:
Email: contactus@theministryfund.org
Phone: 470.851.2366
The Ministry Fund Management Agreement
"*" indicates required fields